Make an Inquiry
* Indicates a required field
Hours
Monday

8:00am - 7:00pm

Tuesday

8:00am - 7:00pm

Wednesday

8:00am - 7:00pm

Thursday

8:00am - 7:00pm

Friday

8:00am - 7:00pm

Saturday

8:00am - 7:00pm

Sunday

By Appointment

Why buy a Kia? Why would you buy anything else?

Kia believes it's important to Lead from the front, the back, and every place in-between. Kia Motors is not only one of the fastest-growing automotive brands, they're also one of the United States' largest brands.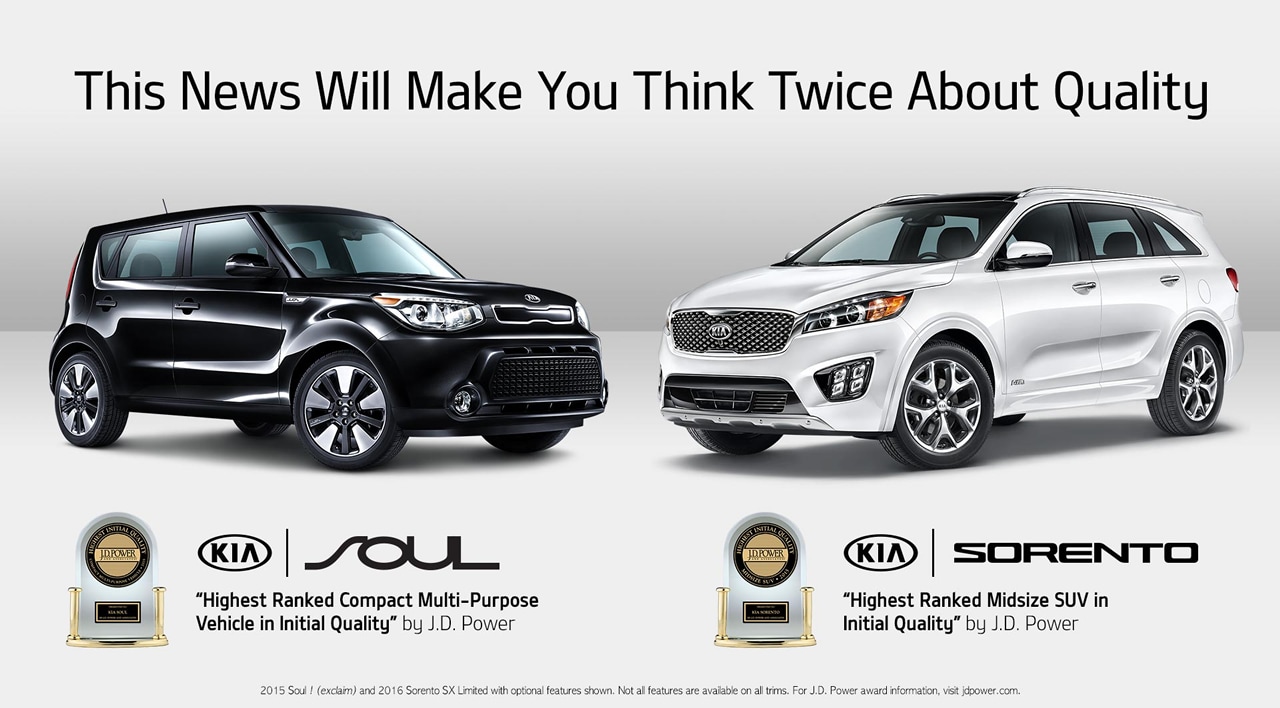 There's a good reason for that, and all you have to do is look at the vehicle line-up.
It's fresh. It's exciting. It's winning awards. And it continues to evolve.
Our new vehicles have impressed the auto industry and, most importantly, thrilled drivers.
Recent Brand Awards
  

STRATEGIC VISION 2014 New Vehicle Experience Study?



"Best Mass Market in Strategic Vision's 2014 Total Quality Study" OR "Awarded Best Mainstream Brand in Strategic Vision's 2014 Total Quality Study"
  

KIA RECEIVES THE 2014 KELLEY BLUE BOOK BRAND IMAGE AWARD FOR 'BEST VALUE BRAND'



The Kelley Blue Book Brand Image Awards recognize automakers for their outstanding work in capturing the attention and interest of new-vehicle buyers. Kia scored high marks-driven primarily by the Optima, Rio, Soul, and Forte models-on affordability and fuel efficiency. In April 2014, Kia Motors America earned its first ever Brand Image Award for 'Best Value Brand.'





  

KIA RANKED A TOP 100 BEST GLOBAL BRAND FOR THE THIRD YEAR IN A ROW



Rising in the ranks from 83rd place in 2013, this year Kia's brand has been valued at $5.4 billion USD to achieve 74th place on Interbrand's Best Global Brands 2014 ranking study.


  
KIA RANKED IN THE TOP 50 BEST GLOBAL GREEN BRANDS 2013

In 2013, Kia Motors was named 37th on Interbrand's list of the 50 Best Global Green Brands-a debut for the Korean car manufacturer in the annual ranking of sustainability and environmental performance of the world's 100 most valuable brands.