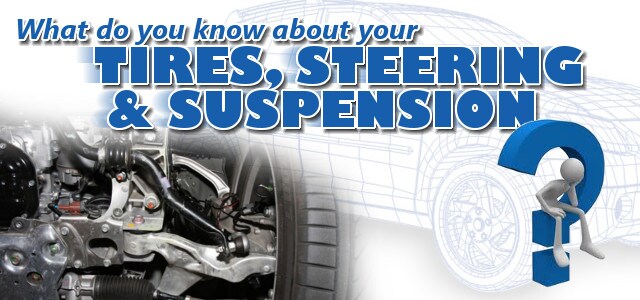 STEERING & SUSPENSION
One of the essential interlocking series of components that's integral to a safe driving experience and the performance of your vehicle is the steering and suspension. A suspension is the system of tires, tire air, springs, shock absorbers and linkages that connects a vehicle to its wheels and allows relative motion between the two. A suspension serve a dual purpose - contributing to the vehicle's handling and braking performance thus maximizing safe driving and driving pleasure, while concurrently keeping the vehicle occupants comfortable and a ride quality reasonably well isolated from road noise, bumps and vibrations. 
When all is working well, you should experience a smooth, stable driving experience. However, the parts and components therein are susceptible to incremental wear and tear, which over time impedes and diminishes the performance of your steering and suspension system. Though your suspension system is designed to absorb the impact, common road abuse 
-
 such as potholes, washboards on gravel road, and a curb bump 
- over time factor in to diminishing the optimal performance of your steering and suspension system. Hence
 it may need adjustment or part replacement, after a while. 
TIRES
A tire is a ring-shaped vehicle component that covers the rim of a wheel to protect it and enable better vehicle performance and fuel economy. Most tires, such as those for automobiles and bicycles, provide traction between the vehicle and the road while providing a flexible cushion that absorbs shock. Proper tire maintenance includes periodic tire rotation and alignment, which balances out the tread wear, and prolongs the life of your tire set. Failure to rotate tires according to manufacturer specifications may void warranties. Bad roads can be your wheels' worst enemy. If you regularly drive down poorly maintained roads and hit one pothole too many, then your alignment can be adversely affected. Proper alignment optimizes your vehicle's performances, fuel economy, and minimizes tread wear on your tires. Maintaining proper tire pressure is also integral to maintaining optimal longevity for your tires. Too little tire pressure could even increase the risk of a vehicular accident or tire blowout, hence it's important to periodically check your tire pressure. 
If you're too busy amid the hustle and bustle of daily life to maintain your tire maintenance yourself, we understand, so trust the service professionals at Rimrock Kia.

Allow the professionals at the Rimrock Kia Service Center to help keep your car in top condition! We're conveniently located at 412 South 24th St W (Across from Buffalo Wild Wings) Billings, MT 59102. Our convenient service number is 1 (888) 698-6457.
Schedule Service
* Indicates a required field
Hours
Monday

7:00am - 5:30pm

Tuesday

7:00am - 5:30pm

Wednesday

7:00am - 5:30pm

Thursday

7:00am - 5:30pm

Friday

7:00am - 5:30pm

Saturday

8:00am - 2:00pm

Sunday

Closed