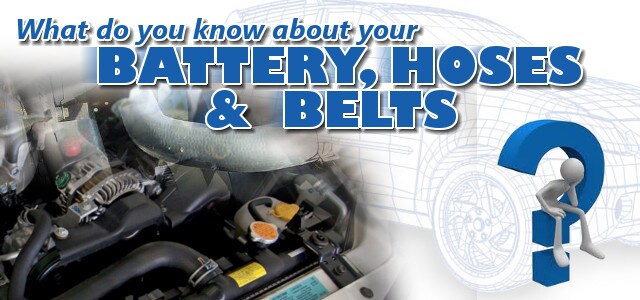 HOSES & BELTS
Hoses and belts are often made of very resilient polymers or rubbery materials, but even these tough materials naturally deteriorate with age. The temperature extremes between hot and cold (which is a reality in Montana and Wyoming) also factor in to accelerated aging. Belts and hoses are vital engine components to the reliable operation of your motor vehicle's powertrain. If belts are loose or excessively cracked, worn, or damaged, or if hoses are soft or fractured, it may be time for a replacement.
A timing belt, sometimes called a timing chain is a part of the engine that synchronizes the rotation of the crankshaft and the camshaft(s) so that the engine's valves open and close at the properly sequenced times during each cylinder's intake and exhaust strokes. Routine preventative maintenance and motor vehicle inspection by an automotive service professional is important to sustain the life and longevity of your vehicle's engine. Accordingly, timing belt replacement prior to breakdown is crucial for avoiding expensive engine damage.
BATTERIES
Batteries do not work very well in extremely hot weather or cold weather, but a car battery is especially vulnerable to the cold. The electric current generated by a battery is produced when a connection is made between its positive and negative terminals. When the terminals are connected, a chemical reaction is initiated that generates electrons to supply the current of the battery. Lowering the temperature causes chemical reactions to proceed more slowly, so if a battery is utilized in extremely cold weather, then less current is produced than during times of higher temperatures.
The fluctuations between hot and cold over time takes its toll on the life of a battery. The Western United States has some pretty extreme cold winter weather. Over time, the culmination of extreme temperature oscillations between hot and cold, and long periods of cold weather, act to strain a vehicle's electrical system and can shorten the life of even the best batteries. Also, battery problems can become acute amid corrosion or leakage. Routine maintenance entails replacement of batteries that are more than two years of age, because a weak / dead battery may leave you stranded!

Have questions? The Rimrock Kia Service Center is here to help! Feel free to give us a call at 
(888) 698-6457 or fill out the form below!
Schedule Service
* Indicates a required field
Hours
Monday

7:00am - 5:30pm

Tuesday

7:00am - 5:30pm

Wednesday

7:00am - 5:30pm

Thursday

7:00am - 5:30pm

Friday

7:00am - 5:30pm

Saturday

8:00am - 2:00pm

Sunday

Closed