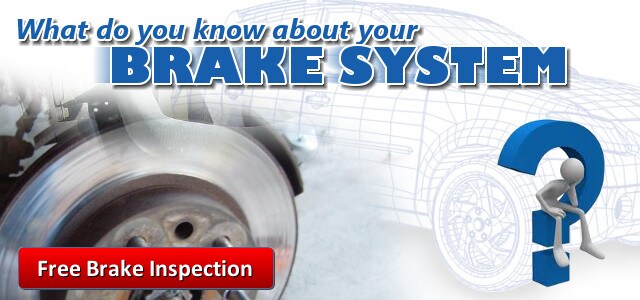 BRAKE SYSTEM
Obviously, a vehicles' brake system is a very important one. Having healthy well-maintained brakes are not only vital to your safety, but the safety of everyone else on the road with you. Think of it this way; even though Kia vehicles are very highly safety rated, well maintained brakes may mean that you'll never need to test your airbags and crumple zones. Brake systems use rotors and pads that are subject to extreme friction and heat any time you apply your brakes. Like any system that works through friction, over time, the pads and rotors wear down and will need to be replaced. Ever hear a car's wheels squealing when it slows down? This means it's time to get new brakes - the pads are near the end of their life. At this point, the brakes are no longer effective and the car is dangerous.
Do you hear a squealing sound when you step on the brake? Is your brake pedal mushy? Have you noticed a change in how much effort it takes to stop your car? It's probably time to bring it in for a check-up.
Bring your car in to the state of the art Rimrock Kia Service Center for all your service needs!
Schedule Service
* Indicates a required field
Hours
Monday

7:00am - 5:30pm

Tuesday

7:00am - 5:30pm

Wednesday

7:00am - 5:30pm

Thursday

7:00am - 5:30pm

Friday

7:00am - 5:30pm

Saturday

8:00am - 2:00pm

Sunday

Closed