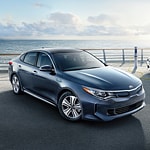 Have you seen the latest Kia Optima models? With all kinds of value packed into a midsize package, the Optima ranks among the top cars for daily commutes and fuel economy, but this powerful small sedan is more than just fuel-efficient. For one, Kia boosted the Optima's interior with all of the latest infotainment and driver assistance technology. The base Kia comes with an 8-inch touch screen and the latest connectivity tools for your smartphones. You can use voice commands to do just about everything in your Kia Optima.
In addition, the new driver assistance features make it incredibly safe to drive anywhere. With blind-spot monitoring, lane departure warnings, rearview camera with parking assist, and traffic alerts, you can glide in complete comfort down the highway. If you want to make a phone call or text a friend you are on the way, you can talk to your smartphones easily with Android Auto and Apple CarPlay.
Want to check out the latest Optima features? You can stop by Rimrock Kia centrally located in Billings for the best prices on Kia models and a fun test drive experience.